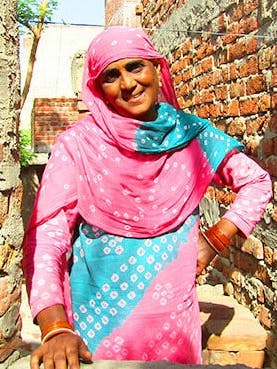 Client Stories
Safe housing that improves quality of life
Sitara, India — Affordable housing means much more than a roof over your head
Guddi makes a living sewing patterns on quilts with her daughter Salma. The roof of her house was temporary, and the building would turn into a furnace during the summers and freeze during the winters, which is typical of poorly constructed kutcha houses. On top of this, the toilet was outside the house and broken-down.
Guddi and Salma worked from the common area of the house, without enough room to properly lay out the quilts. The cramped conditions were not good for productivity, and they only made a small earning per month, at a piece rate of INR 50 for each quilt. Guddi's husband is too old to work, and the household relies on Guddi and Salma's earnings as well as the earnings of Guddi's two sons.
Guddi heard about Sitara, who provide affordable housing finance to underserved women in the informal sector in urban and semi-rural areas in Northern and Western India, with a special focus on advancing women's land rights.
After applying for a loan from Sitara, Guddi was able to completely renovate and construct an extension on their house. Guddi and Salma have now moved their work to the newly built quilt workshop on the first floor. Clearly divided rooms are a feature of permanent pucca houses that make the space more functional for the whole family and create more productive conditions for operating small businesses from home.
Guddi has now managed to almost double her earnings, bringing a newfound entrepreneurial confidence that has seen her seeking better paying home-based work. She is considering applying for another loan from Sitara to construct a bigger workshop for herself, and is relieved that when her sons marry, they will each have their own private rooms.
About Sitara
Incorporated in 2011, Sitara was envisaged as a means for the under-served households to access affordable and formal housing finance in urban & peri-urban locations. We learnt that low-income households held two facets of their life very close to their heart: they treasured the education of their children; and aspired to self-own a property, a home of their own.
In July 2022, Abler Nordic invested USD 8 million equity in Sitara, our first in the affordable housing segment, and aligning well with our strategy to expand our investment scope within the wider financial inclusion space.
Sitara's work is aimed at directly improving the quality of life of informally employed households, especially their women members, by creating a tangible financial asset in their name. They provide an affordable alternative to those households whose credit capacity falls behind the widening financing gap given the informal nature of their employment.
Currently, Sitara serves over 15,000 low-income customers like Guddi a through its network of 36 branches in 8 states including Delhi, Rajasthan, Madhya Pradesh, Uttar Pradesh, Bihar, Maharashtra, Gujarat, and Haryana. "Sitara was set up with a mission to provide housing to low-income women," said Ms. Shruti Gonsalves, MD & CEO at Sitara. "We are proud to have impacted 70,000+ lives by helping their families access good quality housing."
Why Affordable Housing?
There is a documented shortage of 10-12 million housing units in urban India, with 96% of that shortage occurring in economically weaker segments. Additionally, 26-37 million urban households live in informal settlements that are inadequate to live in. Housing is also a driver for economic growth, especially for the poor – their homes often form the crux of their livelihood. Most of these urban poor households require a housing loan to purchase or improve their homes. However, they remain under-served as informal workers lack formal documentation of income and largely reside in informal settlements. Sitara caters to this segment of the population seeking housing finance, aiming to fulfil their desire to own a home.