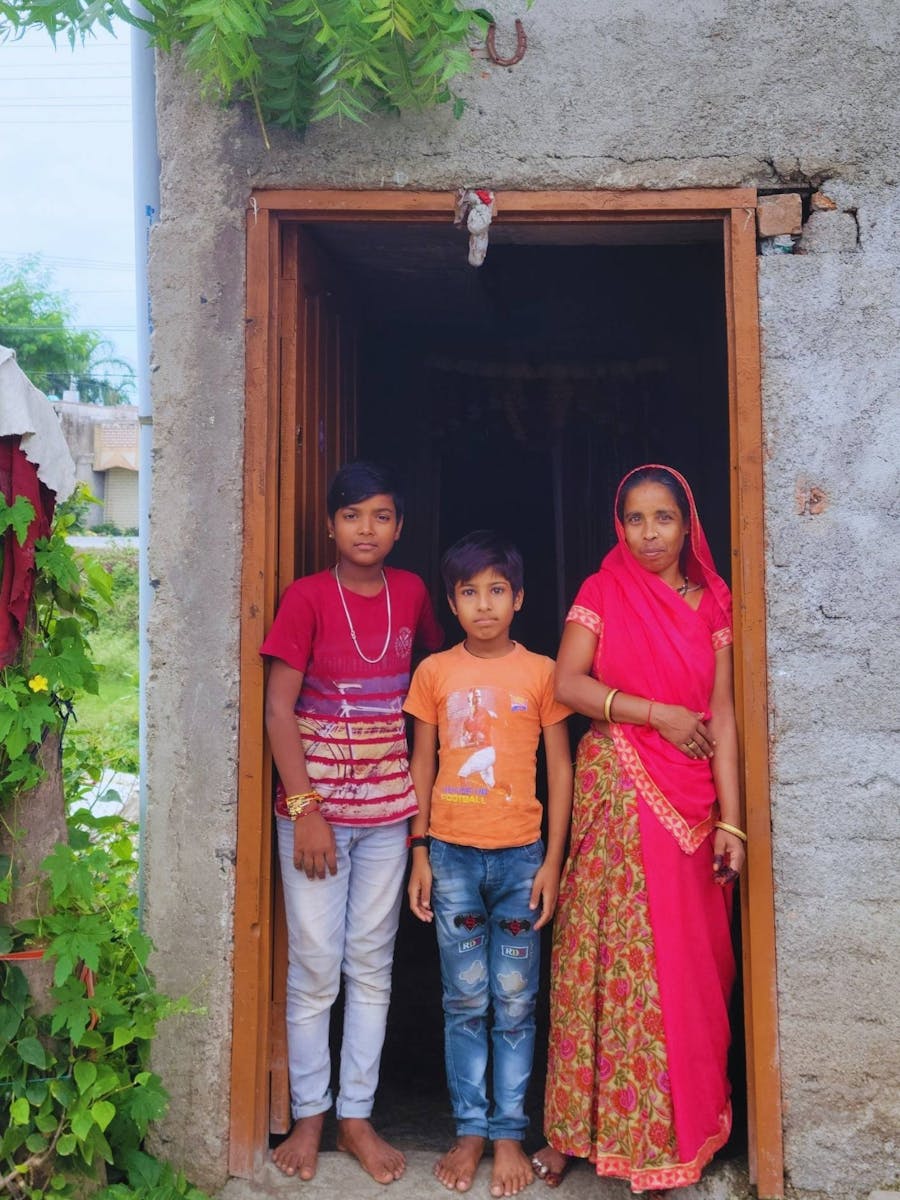 Enabling safe housing for low income families in India
For families like Ravina's, affordable and safe housing remains a critical need.
Ravina Khatun is one of seven female battery rickshaw drivers who hail customers from the metro station in Ghaziabad, India. She and her family of ten previously lived in a temporary kutcha house, with only Ravina, husband Mohamad, and their eldest son bringing in an income. Their house was cramped, with a small corner used as the toilet and bathroom. They had no separate kitchen and cooked meals in shared facilities outside their home.
 Pillars supporting the structure of the house were eroding and heavy rainfall was likely to cause serious damage. The house needed to be demolished and built from scratch, but the family's stretched income made options for financing the new construction scarce.
 For families like Ravina's, affordable and safe housing remains a critical need. In 2012, the government of India estimated a housing shortage of more than 18.78 million units, largely affecting low-income households. The country's total shortage is projected to be around 100 million units by 2022, according to a committee appointed by the Reserve Bank of India.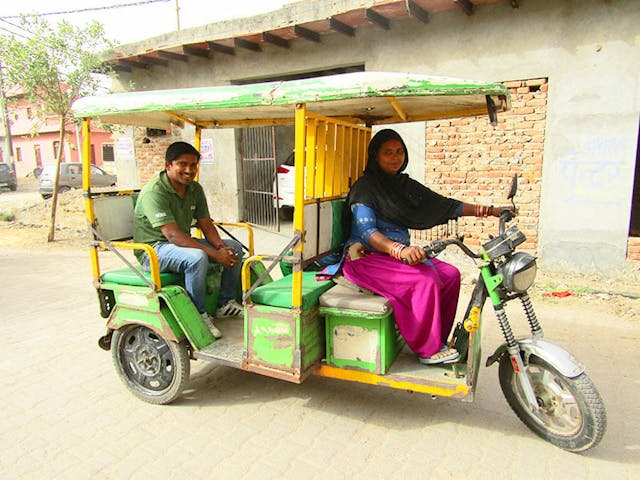 Many families are forced to live in cramped, inadequate housing in informal settlements, with limited access to clean water and sanitation, no tenure security, and temporary kutcha house construction that offers little protection for rising temperatures and changing weather patterns in the wake of climate change.
Ravina and Mohamad had been on the lookout for financing options for their badly needed reconstruction when they came across Sitara, an affordable housing finance company serving low-income families in urban and peri-urban areas in Northern and Western India,
Sitara carried out a thorough assessment of Ravina and Mohamad's application and, based on their consistent earning pattern, a loan was disbursed to the household. The family have since rebuilt their house and their living conditions have improved drastically—they now have four rooms constructed from robust materials, a separate toilet and bathroom and a separate kitchen.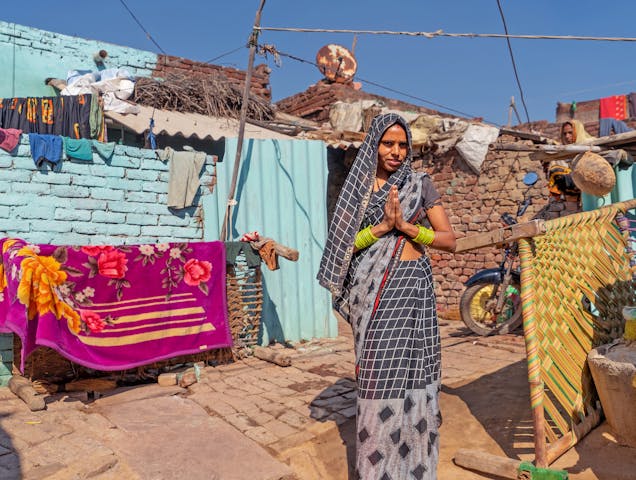 Like Ravina, most of Sitara's clients predominantly come from the bottom of the income pyramid, with 9 out of 10 customers having a household income of less than USD 400 per month. For many of these families, Sitara provides the only viable route to home ownership and household financing.
With a special focus on advancing women's land rights, Sitara works closely with its clients—who are typically excluded from formal financial and legal systems due to lack of documentation and collateral— to formalize their property and proof-of-income documents before issuing a loan. With these documents, clients can use their previously inaccessible capital as collateral for loans. 40% of the loans are loans against property (LAP) where the loan is used to enhance the working capital of the borrower's business, while 60% are used for construction or home improvements.
Home improvement and construction loans enable families to upgrade and build permanent, well ventilated pucca houses made from bricks, cement and galvanised iron. The solid construction methods and materials are not only more suitable to the hot and wet weather cycles in India but are also more resilient to increasingly frequent natural disasters such as flooding and heatwaves.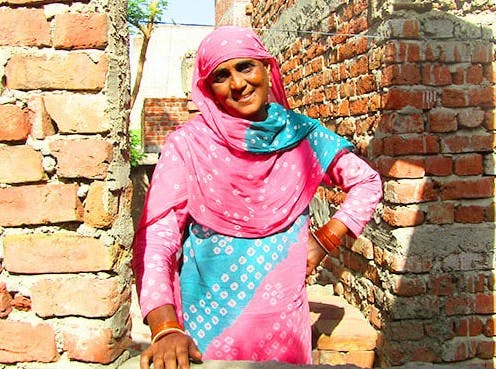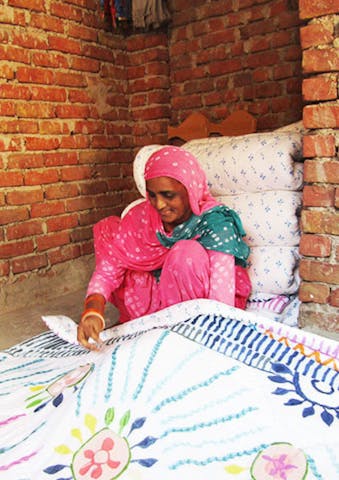 Guddi is a Sitara customer who makes a living sewing patterns on quilts with her daughter Salma. The roof of her house was temporary, and the building would turn into a furnace during the summers and freeze during the winters, which is typical of poorly constructed kutcha houses. On top of this, the toilet was outside the house and broken-down.
Guddi and Salma worked from the common area of the house, without enough room to properly lay out the quilts. Women are particularly affected by poor quality housing since their livelihoods are more dependent on work done in their homes.
The cramped conditions were not good for productivity, and they only made a small earning per month, at a piece rate of INR 50 for each quilt. Guddi's husband is too old to work, and the household relies on Guddi and Salma's earnings as well as the earnings of Guddi's two sons.
After applying for a loan from Sitara, they were able to completely renovate and construct an extension on their house. Guddi and Salma have now moved their work to the newly built quilt workshop on the first floor. Clearly divided rooms are a feature of permanent pucca houses that make the space more functional for the whole family and create more productive conditions for operating small businesses from home.
Guddi has now managed to almost double her earnings, bringing a newfound entrepreneurial confidence that has seen her seeking better paying home-based work. She is considering applying for another loan from Sitara to construct a bigger workshop for herself, and is relieved that when her sons marry, they will each have their own private rooms.
Currently, Sitara serves over 15,000 low-income customers like Guddi and Ravina through its network of 36 branches in 8 states including Delhi, Rajasthan, Madhya Pradesh, Uttar Pradesh, Bihar, Maharashtra, Gujarat, and Haryana.
"Sitara was set up with a mission to provide housing to low-income women," said Ms. Shruti Gonsalves, MD & CEO at Sitara. "We are proud to have impacted 70,000+ lives by helping their families access good quality housing."