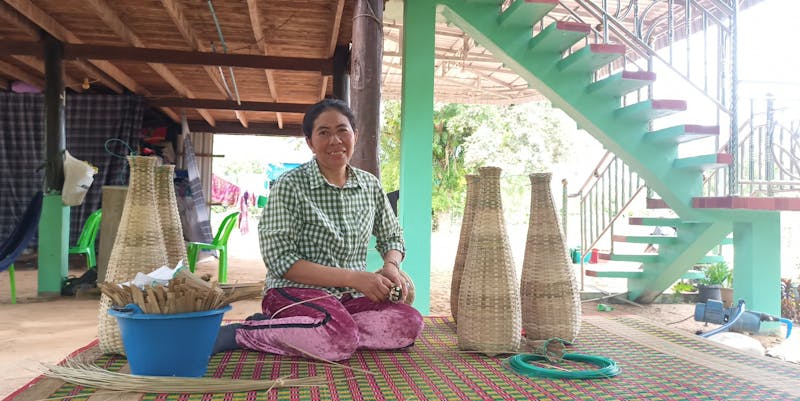 NMI invests USD 7m in LOLC Cambodia, supporting financial services for low-income families
We're pleased to be continuing our partnership with LOLC Cambodia to support low-income, rural families with access to finance to develop businesses and improve their quality of life. 
6 July, 2022
The USD 7 million subordinated loan is a continuation of Nordic Microfinance Initiative's (NMI) partnership with LOLC Cambodia, having disbursed a senior loan in 2018 which was fully repaid in 2021.
The new loan will support the Company in expanding the reach of its financial products to underserved families in rural Cambodia.
LOLC Cambodia Plc. (LOLC) is a licensed microfinance deposit-taking institution (MDI) committed to serving customers at the bottom of the pyramid. Founded in 1994 by Catholic Relief Services, it was acquired by its current shareholder LOLC Asia Private Limited in 2017.
With a nationwide presence of 81 branches across Cambodia, LOLC offers a range of credit, savings, leasing, and digital banking options with the vision that families at the base of the socio-economic pyramid are empowered to live their lives with dignity, social and economic security, and justice. The Company currently serves around 320,000 borrowers and 481,000 depositors, with a gross loan portfolio of USD 1.13 billion and total deposits outstanding of USD 665 million.
While Cambodia has made significant strides in poverty reduction overall, a persistent urban-rural poverty gap remains and the poverty rate among rural households is twice that in urban areas (World Bank). Over 90% of LOLC's customers live in rural or semi-rural areas and close to 70% of customers are women from essential sectors such as agriculture, trade and service, among others.
The Company's diverse range of products and services are designed to give their predominantly rural customers access to economic opportunities to both develop businesses and improve their quality of life. On the credit side, products offered include group and individual micro-loans, SME loans, seasonal loans designed to match crop cycles, housing loans for renovating and purchasing homes, and WASH loans to improve access to clean water and sanitation facilities through building or renovating toilets, creating water storage, and purchasing water filters. Recently, microinsurance was also added to the Company's product range.
 "LOLC (Cambodia) Plc., is proud to be one of NMI's long-term partners. This allows both institutions to create a lasting impact for rural communities via inclusive financial services, female empowerment, and increase their well-being," said Mr. Sok Voeun, Chief Executive Officer of LOLC (Cambodia) Plc, commenting on the investment.
 As LOLC has grown in both scale and outreach, they have continually sought to pass on efficiency gains to low-income clients through both lower end client rates as well as attractive terms on deposit products.
 Furthermore, in early 2022, LOLC was awarded the Client Protection Standards Certification at the Gold Level from the Social Performance Task Force and CERISE. This is the highest level of achievement possible and signifies that the certified institution meets the most rigorous standards of client protection found in the Universal Standards for Social Performance Management.
 "We are particularly excited about continuing our partnership with LOLC due to their strong focus on supporting the poorer segments of Cambodia. The Company's vision of empowering the base of the social-economic pyramid is very much aligned with NMI's. Since our first debt investment in 2018, we have been consistently impressed with LOLC's strong management team, socially dedicated owners, and solid growth," said Arthur Sletteberg, Managing Director of NMI. "Not only does LOLC have the financial strength to support low-income clients with high quality and responsible services, but maintains a steadfast commitment to doing so."
About LOLC Cambodia
‌
With assets of over USD 1.3 billion and 3,400 experienced staff as of March 2022, LOLC (Cambodia) Plc. is one of the most prominent microfinance institutions in Cambodia. LOLC aims to create a lasting positive impact on the communities it serves through the sustainable delivery of inclusive and client-centric financial services, while at the same time generating stakeholder value.
‌
The financial sector in Cambodia is well regulated by the National Bank of Cambodia. As a financial institution, LOLC has assisted and provided customers with the financial capability to improve their livelihood. The customers, in return, have been known as loyal and trustworthy, which allows LOLC to increase its gross loan portfolio from USD 188 million in 2015 to over USD 1 billion as of March 2022.
About NMI
Established in 2008 in Oslo, Norway, as a public-private partnership, NMI invests in and supports institutions providing financial inclusion to poor people across Sub-Saharan Africa and Asia. Our investors include the Norwegian and Danish governmental funds for developing countries (Norfund and IFU) and private financial institutions and family offices from Norway and Denmark.
We aim to create positive social impact and sustainable financial returns through both equity and debt investments. NMI manages five funds with total commitments of more than USD 350 million. We currently have 18 direct investments and have cumulatively supported over 12 million clients since inception.