In Kenya, roughly 75% of the population live rurally and depend on agricultural production for employment or their livelihoods. Smallholder farmers represent 78 percent of total agricultural production and produce the majority of the nation's food crops.
A typical smallholder farm size is less than 5 acres, yet yields have historically been sub-optimal, in part due to lack of access to assets to increase productivity. With the average farm size now falling and land distribution becoming more concentrated, there is a greater need for smallholder farmers to increase productivity, both to sustain an income and meet the rising food demands from a dependent population.
Quality seeds and fertiliser are among two of the biggest determinants of higher crop yields. Yet many farmers are unable to consistently access finance for these crucial inputs before the planting season. Most existing financial service providers reach only a fraction of the rural poor and only provide a limited range of services that are not tailored to agricultural cash flow cycles.
Established in 2004, Juhudi Kilimo primarily finances specific agricultural assets such as seeds and fertilizer, equipment, and quality livestock, which allows smallholder farmers to significantly increase their productivity. Nordic Microfinance Initiative (NMI) has a 39.4% ownership stake in Juhudi Kilimo, which follows on from a previous USD 3m debt investment in 2019.
Tailoring products to specifically meet farmers' needs and equipping them with the skills to sustain a profitable business in the long-term has been part of Juhudi's successful approach. Repayment schedules that fit with farming cycles are key, specifically tailored to seasonal income and long maturation periods.
Access to good agricultural information and business training enable farmers to make informed decisions towards increasing agricultural productivity. Through Juhudi, farmers are given thorough training in financial management, giving them the springboard they need to establish and run a profitable agricultural business.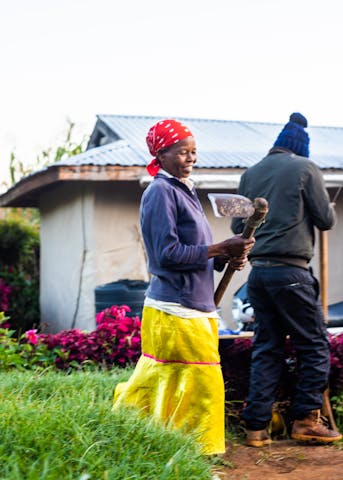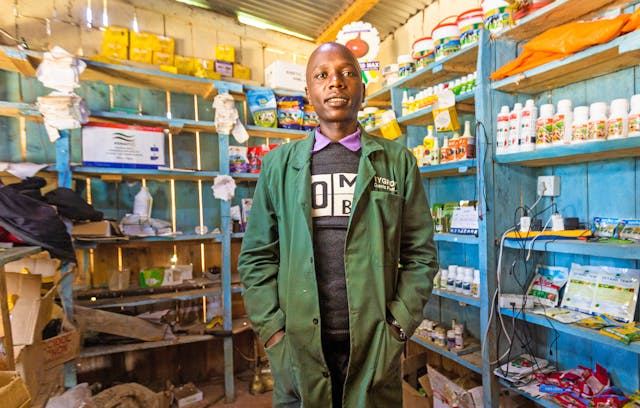 Growing a sustainable business
Deep in the middle of Ndumberi in Central Kenya lives Irene Wangari Thiongo and her family. Irene is 44 years old and is a smallholder farmer practicing mixed farming but is most passionate about dairy farming. 
Through the Wakulima Bora self-help group (Better farmers) Irene and other members joined Juhudi Kilimo. During an 8-week period, Irene went through a series of business management, technical, and financial training sessions with Juhudi Kilimo during their group meetings. Irene took her first loan of KES 20,000 which she used to construct a simple dairy shed for the only cow she owned at the time.
For her second loan, Irene applied for KES 100,000 and used the money to purchase a high-breed dairy cow. By the term of the second loan, Irene had increased her agricultural yield and had no trouble clearing the loan. Irene's third loan of KES 120,000 went into purchasing an electric chaff cutter and animal feed. She was also able to take up a top-up loan which she used to buy a 5,000-liter water tank.  
To date, Irene has successfully serviced all her loans well and says that she "always borrows a loan with a purpose" and that she has disciplined herself not to divert even a single cent from the funds she borrows.  
"Juhudi has helped me generate sufficient income to educate my children. I encourage other farmers who are in my previous situation to join Juhudi and benefit as I did," says Irene.
Technology for greater access
Juhudi is committed to leveraging technology to increase its efficiency and to provide financial access to its remotely located customers. Historically, a major constraint to financial inclusion institutions servicing remote areas is the high cost of operation, however digital services are playing an increasingly big role in creating access for rural customers. Extending customer reach on loan products via mobile banking helps to reduce operational cost, as it supports account aggregation to allow the customers to monitor all of their loans and transactions on one platform.
It is much cheaper and easier for customers to make loan repayments via the mobile option than the traditional way of making clients visit designated branches or visiting remote clients in person.
At the onset of the COVID-19 pandemic in 2020, NMI's Technical Assistance facility (funded by Norad, the Norwegian Agency for Development Cooperation) assisted Juhudi Kilimo with a fast turnaround to implement a mobile app to manage client groups remotely. Kenya's high mobile phone penetration rates of over 80% enabled an environment where digital options were accessible for almost all clients.
Juhudi currently disburses almost 90% of loans via mobile phone with about 60% of clients also making their repayments via mobile phone.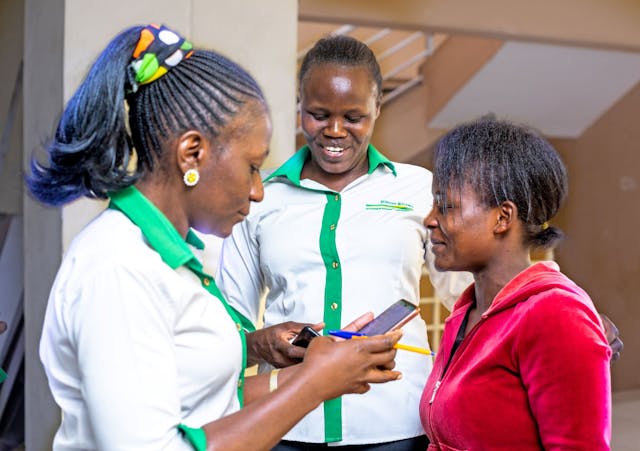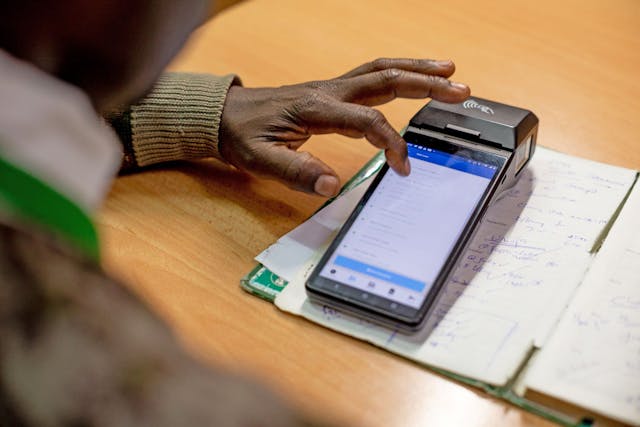 Empowering rural people through clean energy
Juhudi Kilimo has also embarked on a sustainable clean energy program to empower rural people with access to efficient cook stoves, solar lighting, water filters and biogas digesters.
Millions of families and small businesses around the world use outdated technology to light and warm their homes, cook their food, and clean their drinking water. The majority of rural Kenyans use inefficient stoves for cooking that use wood or charcoal for fuel, but these stoves produce harmful emissions and have a significant detrimental effect on health.
 Similarly, many rural Kenyans are not connected to the electricity grid and rely on kerosene lanterns for light, however these technologies produce emissions that are harmful to the users' health.
Barriers such as poor distribution, lack of awareness of alternatives and lack of finance prevent poor rural people from upgrading to newer, cleaner, more efficient technologies:
Juhudi is addressing these barriers by offering customers clean energy loans for financing for eco-friendly products, such as LPG gas, solar TVs, solar water pumps, solar home systems, modern cookstoves, and biogas systems that use energy generated from natural resources that are renewable.
In addition to their clean energy loans, Juhudi is continually developing, testing and introducing new complementary products for farmers, such as micro-housing loans, noting the key socio-economic role housing plays for the underserved population.