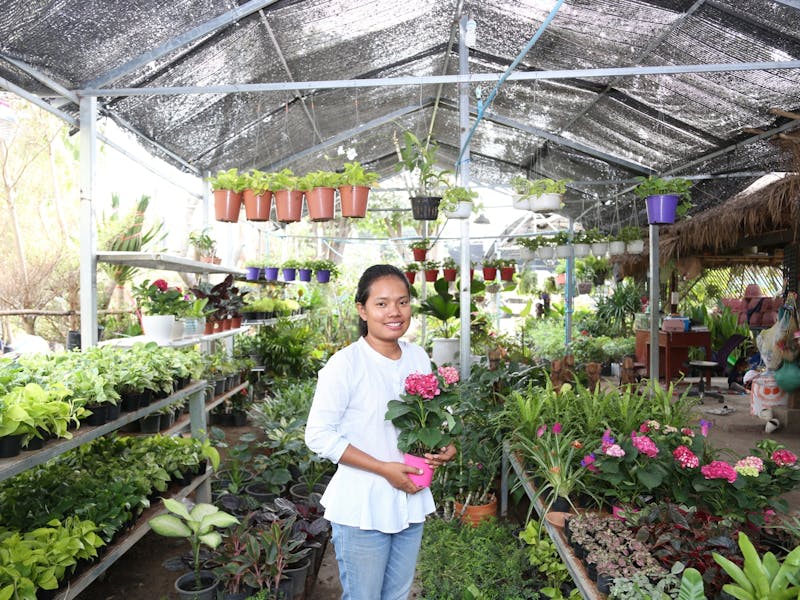 Client Stories
Young female entrepreneur who follows her passion in landscape design
PRASAC, Cambodia: Before becoming a landscape designer, Meas Chanphalla was a teacher of English and painting at a private school in Phnom Penh in Cambodia.
PRASAC, Cambodia: Before becoming a landscape designer, Meas Chanphalla was a teacher of English and painting at a private school in Phnom Penh in Cambodia.
One day, she decided to quit her job to do business of her own with her little savings. She pursued many business ventures such as running a food stall and opening a clothes shop… but all failed.
In the face of such failures, she tried to reflect back on her strengths and weaknesses and find other ways of generating income. It eventually dawned that she should have run a business utilizing her talent of painting and her hobby of planting flowers. And that's the inception of her landscape design business venture.
Her ambition was big, but she started small. First, with capital as low as USD 50, in 2015, she started to sell flowers online via social network, Facebook. She had no stock of flowers of her own. She just took photos of the diverse plant species from her suppliers' stores and advertised on her Facebook page. When there was an online order from her visitors, Phalla bought the flowers on credit and shipped to her customers at a lucrative price. To her surprise, she managed to sell hundreds of plants per day. Her customers are Cambodian and expatriate flower and garden lovers.
Phalla's online business went well, urging her go to the next level as a full-fledge landscape designer. Without enough capital, Phalla approached PRASAC for her first loan of USD 5,000 to finance her small projects of landscape design for garden, home and restaurant of her customers. The loan was used to buy flowers, plants, pebbles, grasses…Thanks to her talent, passion and responsible personality, she was able to win many projects as her portfolios with the strong support from her husband. She then added up another loan of USD 30,000 to expand her activities.
Her momentum of success did not stop at this point. Thanks to referrals from her previous clients, Phalla was able to bid and win landscape design projects from various newly built hotels in Siem Reap, Phnom Penh and Sihanoukville. She asked for the third loan of USD 30,000 from PRASAC to finance these projects and open a landscape design garden in Samrong village, Takmao commune, Takmao city, Kandal province.
When asked how she acquired the skills, Phalla said that she learned how to paint from her father who was a painter. On landscape design, she learns by herself and gets the idea and inspiration from YouTube. She now can sketch and design a number of breathtaking garden views.
"I am so happy to own this business which I can apply my talent of sketching and painting with my hobby of gardening. It's very exciting to follow our heart. I would like to thank PRASAC for fulfilling my dream with its financial support," smilingly said Phalla.
"As the business grows so well, my family's livelihood is also good. We now have about 20 workers to support the gardening. Although I have no child at the moment, I can send my 2 adopted children to school. I can buy a plot of land and a new house," added Phalla.
Source: PRASAC, Cambodia. www.prasac.com.kh/en/