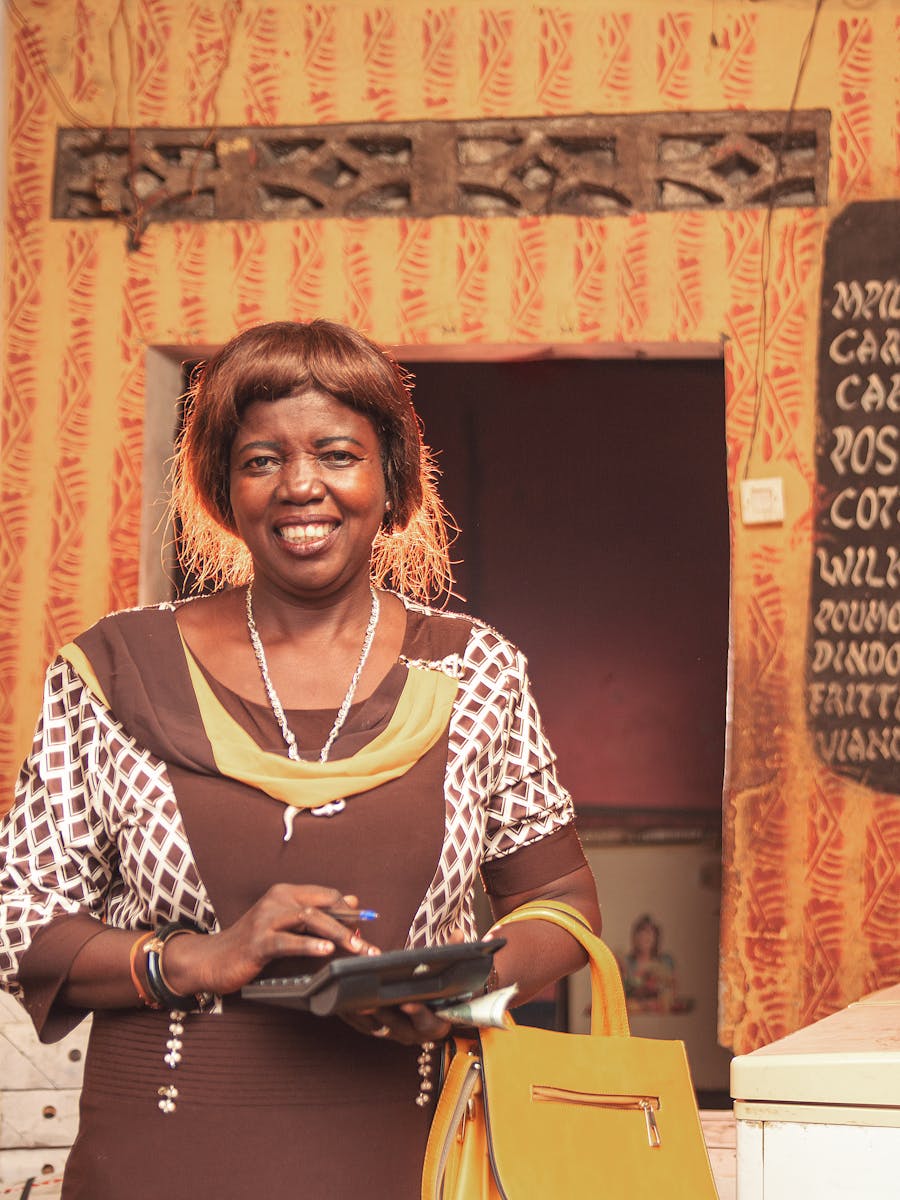 Client Stories
Driven by a desire for financial independence
Baobab, Democratic Republic of Congo — Aimé started her business with barely 50 US dollars and sold her goods on a mat on the ground.
Aimé is a merchant specializing in the sale of fresh meat, fish and vegetables. The adventure began in 2016, when Aimé took the advice of a friend and decided to start selling food products at the local Kingasani market in Kinshasa. After being unemployed for several years, Aimé was driven by the ambition to be financially independent. She started her business with barely 50 US dollars and sold her goods on a mat on the ground. Determined to succeed, she held out and weathered the many difficulties her business faced.
After years of working very hard in markets, Aimé managed to open her first shop with the profits she had made. But she soon realized that she was lacking both equipment and stock: "I had no money to increase my stock and to buy equipment such as a freezer." One day, a group of friends spoke to her about a financial institution, Baobab, and she found out that it offered financing for Congolese merchants. She decided to go for it and applied for her very first loan in October 2017. After only a few days, Aimé received a positive response. Her first 600-US dollar loan allowed her to build up her stock of goods and finance her equipment needs.
"Baobab supported me by offering the financing I needed to develop my project."
Today, Aimé has three shops in Kingasani after opening her newest one in April 2022. She serves a diverse customer base, including restaurant and bar owners, as well as retail customers. Over the next five years, Aimé's goal is to grow her business and buy a cold room to store her goods. To her, Baobab stands out from other credit institutions due to the speed with which it processes applications and the quality of its branch staff. Aimé says, "When I saw how much Baobab had boosted my business, I decided to stay with them as long as possible!".
Baobab DR Congo
In 2017, Baobab Group acquired OXUS DRC, a microfinance institution that began operating in July 2013. It is currently providing financing to over 13,000 customers, mostly micro-enterprises and small and medium-sized companies
Abler Nordic invested equity in Baobab Group, which Baobab DRC is a part of, in 2016.