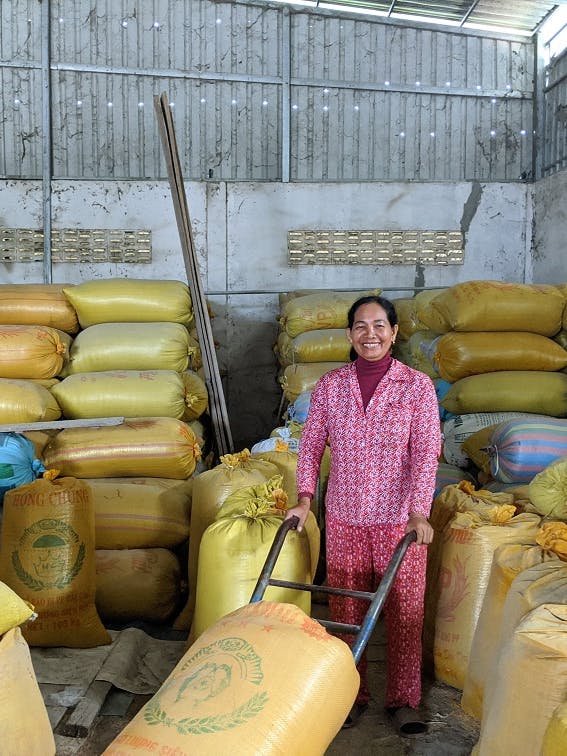 Client Stories
My business and life have noticeably improved a lot
Mrs. Touch Savang is a 55-year-old grocery seller that lives in Prey Nheat Village, in Kampong Speu Province, Cambodia, with her husband, Kheang Sokhorn, and their son and daughter.
She runs a small grocery shop, earning a modest income to support her family with suitable food and clothes. However, she faced a shortage of capital for buying grocery items and setting up a new business, but she feared becoming indebted to private lenders in the village.
She had so far taken out 3 cycles of loans with Abler Nordic portfolio company LOLC Cambodia to improve her grocery shop and generate a new income source through buying paddy crop and stockpiling it to sell when the price is good.
"Applying for the loan from LOLC was one of my right decisions. Thanks to the capital, my business and life have noticeably improved a lot," said Mrs. Savang. "Through the loan from LOLC Cambodia, I am now able to make profit around US$ 25 per day from the grocery store and around US$ 2,500 from paddy crop investment in a season".
About LOLC Cambodia
LOLC Cambodia Plc. (LOLC) is a licensed microfinance deposit-taking institution (MDI) committed to serving customers at the bottom of the pyramid. Founded in 1994 by Catholic Relief Services, it was acquired by its current shareholder LOLC Asia Private Limited in 2017.
In June 2022, Abler Nordic disbursed a USD 7 million subordinated loan—a continuation of our partnership with LOLC Cambodia, having disbursed a senior loan in 2018 which was fully repaid in 2021.
 LOLC's diverse range of services are designed to give their predominantly rural customers access to economic opportunities to both develop businesses and improve their quality of life. On the credit side, products offered include group and individual micro-loans, SME loans, seasonal loans designed to match crop cycles, housing loans for renovating and purchasing homes, and WASH loans to improve access to clean water and sanitation facilities through building or renovating toilets, creating water storage, and purchasing water filters. Recently, microinsurance was also added to their product range.