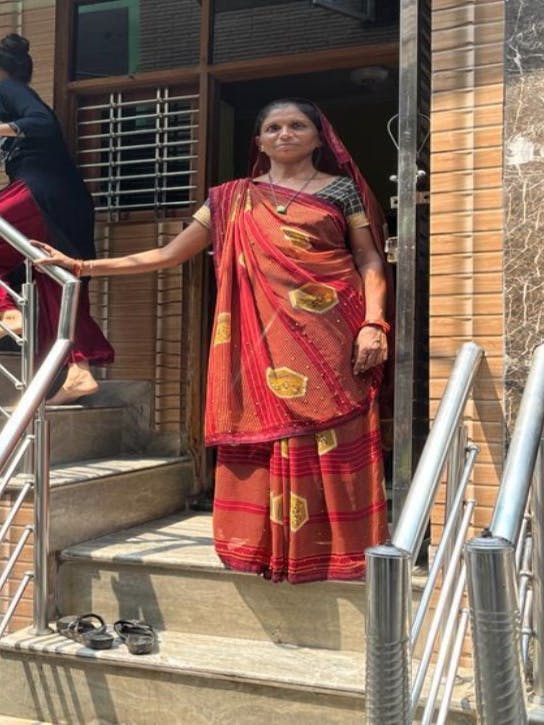 Client Stories
From unsafe construction to a solid family home
Sitara, India - The foundations of Ratan's home had become unstable and the heat inside was causing skin problems for her family
Ratan's day starts with going to the vegetable market at Shalimar Bagh at 7am and loading up kilos of lemons and chillies into a cloth bag which she carries back home in a rickshaw. Then after cooking breakfast and lunch for her husband and kids she carries the bag to her mother's home where she and her mother keep the lemons and chillies to dry on the terrace. After ensuring that any excess water has evaporated from the vegetables she uses a cotton thread to tie those lemons and chillies together to make "nimbu-mirchi" a staple talisman that hangs over most Indian households and shops.
Ratan earns about eight to twelve thousand a month through this business. This coupled with her husband's income from working at a packing factory in Jehangirpuri is what provides for their household consisting of three young daughters and one son.
 When Ratan and her husband applied for a home loan at SGRL their living situation had already become precarious. The foundations of their older single storey home had become unstable a few years ago due to haphazard construction work in the home beside them causing their home to sink below ground level. The tin roof over their home would also heat up and cause several skin problems for her and her children during Delhi's infamously hot summers.
By the time Ratan applied for a loan at SGRL the situation with her home had become so dire that their entire family was living at her mother's home.
 After receiving a loan of Ratan and her husband decided to build a two story home with a concrete roof. She mentions that she conceptualized the interior like cupboards, tiles, paint and floor design of the home herself and is especially proud of the new kitchen and toilet they've added. Something they didn't have in the old house. The added space also meant they were able to add a lot more amenities for their family. Their hall from the previous home which was cramped with three rusty steel beds has been replaced new fridge, cooler and TV as the family can now sleep in the upper floor. Ratan also hopes that with the creation of a proper terrace in this new house she might be able to shift the making of nimbu-mirchi from her mother's home.