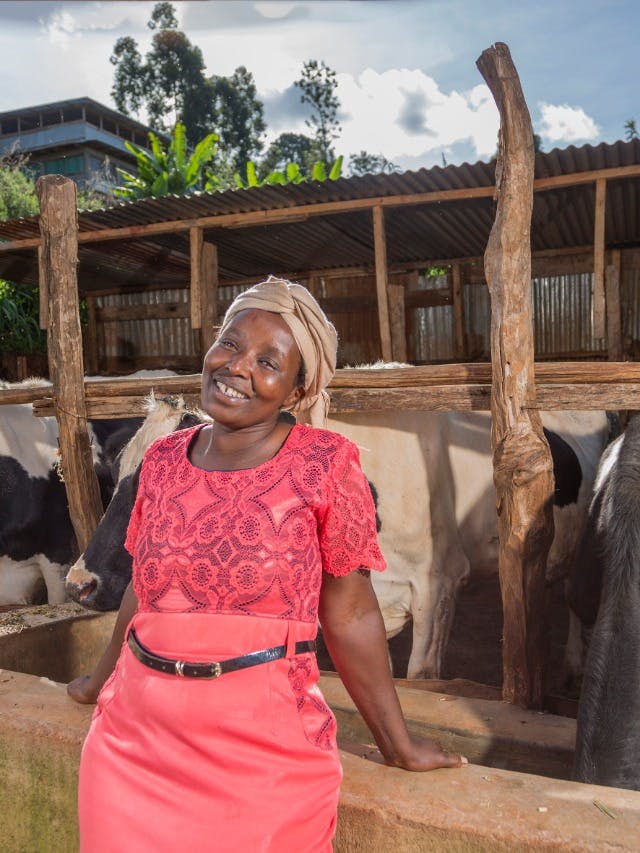 Client Stories
Generating an income to educate my children
Juhudi Kilimo, Kenya — Deep in the middle of Ndumberi in Central Kenya lives Irene Wangari Thiongo and her family. Irene is 44 years old and is a smallholder farmer practicing mixed farming, but is most passionate about dairy farming. 
Through the Wakulima Bora self-help group (Better farmers) Irene and other members joined Juhudi Kilimo, a microfinance institution that strives to improve the livelihoods of rural smallholder farmers and micro entrepreneurs by providing wealth-creating financial solutions. Juhudi Kilimo primarily finances specific agricultural assets such as seeds and fertilizer, equipment, and quality livestock,which allows smallholder farmers to significantly increase their yields and productivity.
Developing business skills
Tailoring products to specifically meet farmers' needs and equipping them with the skills to sustain a profitable business in the long-term has been part of Juhudi's successful approach. During an 8-week period, Irene went through a series of business management, technical, and financial training sessions with Juhudi Kilimo during their group meetings. Irene took her first loan of KES 20,000 which she used to construct a simple dairy shed for the only cow she owned at the time.
Increasing agricultural yields
For her second loan, Irene applied for KES 100,000 and used the money to purchase a high-breed dairy cow. By the term of the second loan, Irene had increased her agricultural yield and had no trouble clearing the loan. Irene's third loan of KES 120,000 went into purchasing an electric chaff cutter and animal feed. She was also able to take up a top-up loan which she used to buy a 5,000-liter water tank.  
To date, Irene has successfully serviced all her loans well and says that she "always borrows a loan with a purpose" and that she has disciplined herself not to divert even a single cent from the funds she borrows.  
"Juhudi has helped me generate sufficient income to educate my children. I encourage other farmers who are in my previous situation to join Juhudi and benefit as I did," says Irene.